IICD Newsletter December 2022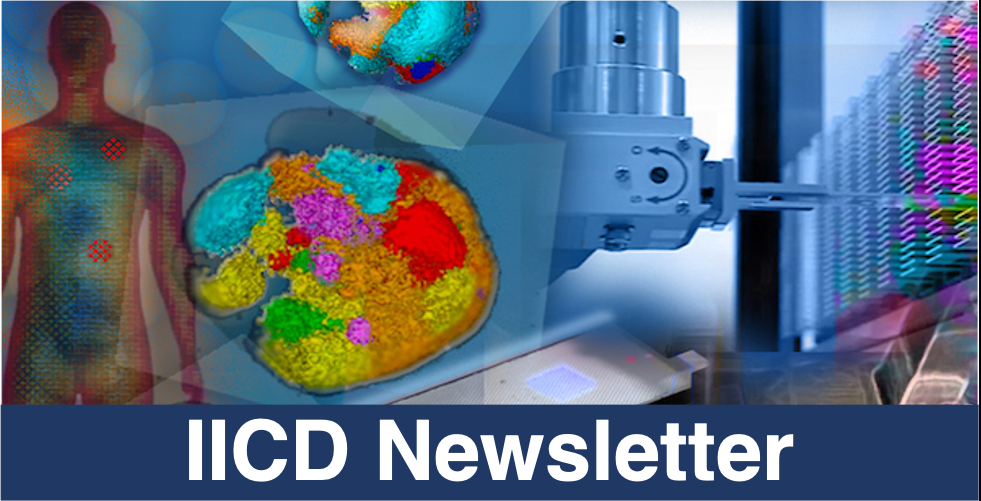 *|MC_PREVIEW_TEXT|*
A New Serial Two-Photon Tomography System at IICD and ZMBBI
The Irving Institute for Cancer Dynamics recently set up a serial two-photon tomography system with an automated collector to image and annotate tumor biopsies. The instrument will allow the development of new approaches to image and interrogate the tumor microenvironment with single-cell resolution. These systems allow very high-resolution multi-color imaging of intact tissue volumes.
Next Speaker in the IICD Seminar Series

Mathematical and Computational Methods in Cancer and Biology:
A Celebration of the 5th Anniversary of the IICD
and Simon Tavaré's 70th Symposium
Karol Nowicki-Osuch, IICD Associate Research Scientist, gave a presentation titled "scRNA sequencing shows profound phenotypic similarity between Gastric Intestinal Metaplasia and Barrett's Esophagus" at the "2022 Gastroesophageal Cancer Think Tank," a two-day scientific meeting addressing the challenges facing researchers and clinicians in gastroesophageal cancer.
Congratulations to

Itsik Pe'er who received an Inter/Intra Programmatic Pilot Program grant from the HICCC to support a translational research project. Together with Drs. Larisa Geskin and Nicholas Tatonetti, they will assess if artificial intelligence and machine learning can predict disease outcomes and treatment responses in cutaneous T-cell lymphoma patients.
Congratulations to IICD Associate Member Brent Stockwell, Professor of Biological Sciences and Chemistry, who was named among the 2022 Highly Cited Researchers by Clarivate in two categories - Molecular Biology & Genetics and Biology & Biochemistry - for the second year in a row.
Pankaj Pradeep, MS student in Biomedical Engineering, has joined Karol Nowicki-Osuch's Lab this Fall. He looks to leverage his knowledge in biotechnology through his undergraduate degree, with computational tools to upskill himself to contribute to cancer research. He is currently working with genomics tools to identify the role of extrachromosomal DNA in the evolution of cancer using publicly available computational tools.
Recent Publications from IICD Researchers
An Approximate Bayesian Computation Approach for Modeling Genome Rearrangements. Moshe, A.; Wygoda, E.; Ecker, N.; Loewenthal, G.; Avram, O.; Israeli, O.; Hazkani-Covo, E.; Pe'er, I.; Pupko, T. Mol. Biol. Evol. 2022, in press.

A Path to Translation: How 3D Patient Tumor Avatars Enable next Generation Precision Oncology. Shree, B.; Barroso, M.; Chheda, M. G.; Clevers, H.; Elez, E.; Kaochar, S.; Kopetz, S. E.; Li, X. N.; Meric-Bernstam, F.; Meyer, C. A.; Mou, H.; Naegle, K. M.; Pera, M. F.; Perova, Z.; Politi, K. A.; Raphael, B. J.; Robson, P.; Sears, R. C.; Tabernero, J.; Tuveson, D. A.; Welm, A. L.; Welm, B. E.; Willey, C. D.; Salnikow, K.; Chuang, J. H.; Shen, X. Cancer Cell 2022, in press.

Clonal Somatic Copy Number Altered Driver Events Inform Drug Sensitivity in High-Grade Serous Ovarian Cancer. Martins, F. C.; Couturier, D. L.; de Santiago, I.; Sauer, C. M.; Vias, M.; Angelova, M.; Sanders, D.; Piskorz, A.; Hall, J.; Hosking, K.; Amirthanayagam, A.; Cosulich, S.; Carnevalli, L.; Davies, B.; Watkins, T. B. K.; Funingana, I. G.; Bolton, H.; Haldar, K.; Latimer, J.; Baldwin, P.; Crawford, R.; Eldridge, M.; Basu, B.; Jimenez-Linan, M.; McPherson, A. W.; McGranahan, N.; Litchfield, K.; Shah, S. P.; McNeish, I.; Caldas, C.; Evan, G.; Swanton, C.; Brenton, J. D. Nat Commun 2022, 13 (1), 6360.

Single-Cell Profiling Reveals a Memory B Cell-Like Subtype of Follicular Lymphoma with Increased Transformation Risk. Wang, X.; Nissen, M.; Gracias, D.; Kusakabe, M.; Simkin, G.; Jiang, A.; Duns, G.; Sarkozy, C.; Hilton, L.; Chavez, E. A.; Segat, G. C.; Wong, R.; Kim, J.; Aoki, T.; Islam, R.; May, C.; Hung, S.; Tyshchenko, K.; Brinkman, R. R.; Hirst, M.; Karsan, A.; Freeman, C.; Sehn, L. H.; Morin, R. D.; Roth, A. J.; Savage, K. J.; Craig, J. W.; Shah, S. P.; Steidl, C.; Scott, D. W.; Weng, A. P. Nature Communications 2022, 13 (1), 6772.

Small-Molecule Allosteric Inhibitors of GPX4. Liu, H.; Forouhar, F.; Lin, A. J.; Wang, Q.; Polychronidou, V.; Soni, R. K.; Xia, X.; Stockwell, B. R. Cell Chem Biol 2022, in press.

Starfysh Reveals Heterogeneous Spatial Dynamics in the Breast Tumor Microenvironment. He, S.; Jin, Y.; Nazaret, A.; Shi, L.; Chen, X.; Rampersaud, S.; Dhillon, B. S.; Valdez, I.; Friend, L. E.; Fan, J. L.; Park, C. Y.; Mintz, R.; Lao, Y.-H.; Carrera, D.; Fang, K. W.; Mehdi, K.; Rohde, M.; McFaline-Figueroa, J. L.; Blei, D.; Leong, K. W.; Rudensky, A. Y.; Plitas, G.; Azizi, E. BioRxiv 2022.
Copyright © *|CURRENT_YEAR|* *|LIST:COMPANY|*, All rights reserved.
*|IFNOT:ARCHIVE_PAGE|* *|LIST:DESCRIPTION|*

Our mailing address is:
*|HTML:LIST_ADDRESS_HTML|* *|END:IF|*

Want to change how you receive these emails?
You can update your preferences or unsubscribe from this list.

*|IF:REWARDS|* *|HTML:REWARDS|* *|END:IF|*