The Irving Family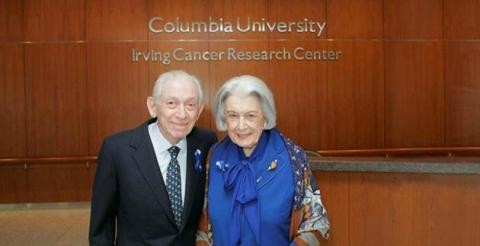 Both born and raised in Brooklyn, Herbert and Florence Irving played a leading role in philanthropy and service in their generous support for Columbia University Medical Center. Herbert Irving was a co-founder and former vice chairman of Sysco Corporation, the nation's largest food distributor. Florence Irving served in leadership positions on the boards of several nonprofit institutions, including The Metropolitan Museum of Art, where she was a trustee. Herbert Irving passed away on October 3, 2016, and Florence Irving passed away on July 25, 2018.
Across Columbia, the Irvings' generosity has transformed the study and treatment of cancer. The Irvings' donations to Columbia University and NewYork-Presbyterian total nearly $1 billion. They left a bequest of $700 million, including $600 million in new funds in addition to previously announced pledges, to these two institutions to advance research and clinical programs for the treatment of cancer.
In September 2016, Columbia University named the Medical Center in honor of the Irvings. The Herbert and Florence Irving Medical Center is home to the Herbert Irving Pavilion, the Irving Cancer Research Center, the Irving Institute for Clinical and Translational Research, the Irving Radiation Oncology Center, the Irving Bone Marrow Transplant Unit, and the Herbert Irving Comprehensive Cancer Center, the Irving Pediatric Oncology Program, and the Irving Comprehensive Skin Cancer Center, as well as a long list of named professorships, faculty chairs, and clinical and research facilities. The Irving Medical Center is also home to the Herbert and Florence Irving Basic Science Scholars in Pediatric Cancer. The Irvings' focus on fighting cancer extends across the University to the Morningside and Manhattanville campuses as well, where the Herbert and Florence Irving Institute for Cancer Dynamics, the Herbert and Florence Irving Cancer Data Fellows, the Herbert and Florence Irving Cancer Research Data Scientists, and the Herbert and Florence Irving Cell Research Program reside.