IICD Newsletter November 2022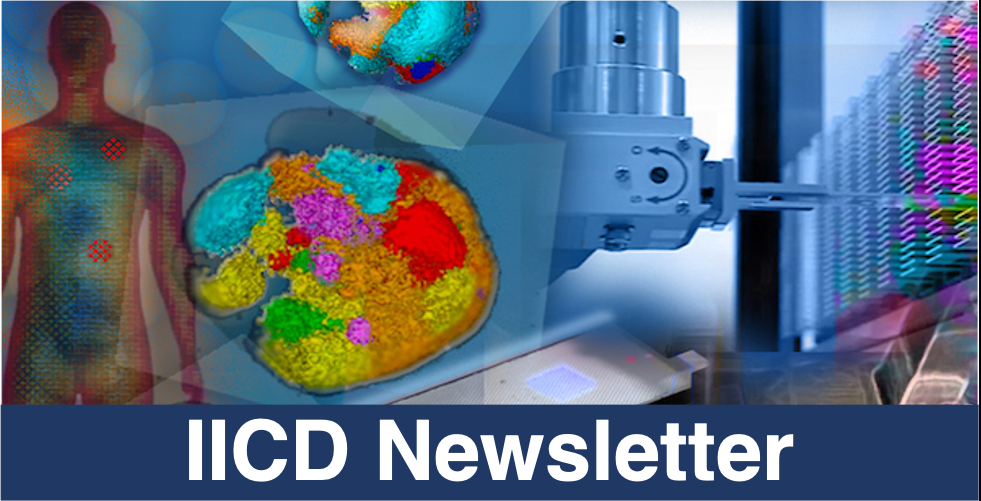 *|MC_PREVIEW_TEXT|*
Elham Azizi Receives a CZI Science Diversity Leadership Award
Elham Azizi has received a Chan Zuckerberg Initiative Science Diversity Leadership award for her project titled "Computational Modeling of Regulatory Mechanisms in the Spatial Breast Tumor Microenvironment Purpose." The $1.15 million grant will support the Azizi lab for five years to develop novel machine learning tools to dissect underlying dysregulated mechanisms in the triple-negative breast tumor microenvironment through integrating spatial multi-omics data.
Next Speaker in the IICD Seminar Series
Metabolic, Neuroendocrine,
and Immunological Effects of Cancer Progression and Cachexia
j
Hosted by Simon Tavaré, FRS
Date: November 16, 2022 at 2 PM (ET)
Location: Schermerhorn Hall 603
and via Zoom
Save the date: Mathematical and Computational Methods in Cancer and Biology Symposium
Congratulations to IICD Associate Member Jellert Gaublomme, Assistant Professor of Biological Sciences, who was recently awarded a NIH Director's New Innovator Award (D2P) for his project titled "Spatially Mapping of Pooled in vivo CRISPR Screens in the Tumor Microenvironment." Read more.
Congratulations to Mackenzie Sky, an intern in the 2022 IICD Summer Research Program, who placed first for best poster presentation at the 2022 MIT IEEE Undergraduate Research Technology Conference. She investigated glioblastoma resistance to temozolomide with single-cell CRISPR base editing in Dr. José McFaline-Figueroa's laboratory.
Valerio Galanti, PhD student in computer science, joins Andrew Blumberg's group this Fall.
Valerio graduated from the University of Pennsylvania in 2022 with an M.A. in Mathematics and a B.S.E. in Computer Science. He is interested in leveraging mathematical tools from geometry and topology to study biological data and improve on existing machine learning methods.
Recent Publications from IICD Researchers
An Immune Cell Recirculation-Enabled Microfluidic Array to Study Dynamic Immunotherapeutic Activity in Recapitulated Tumor Microenvironment. Chi, C.-W.; Lao, Y.-H.; Ahmed, A. R.; He, S.; Merghoub, T.; Leong, K. W.; Wang, S. BioRxiv 2022.

Cost-Effectiveness of Neoadjuvant FOLFIRINOX versus Gemcitabine Plus Nab-Paclitaxel in Borderline Resectable/Locally Advanced Pancreatic Cancer Patients. Ingram, M. A.; Lauren, B. N.; Pumpalova, Y.; Park, J.; Lim, F.; Bates, S. E.; Kastrinos, F.; Manji, G. A.; Kong, C. Y.; Hur, C. Cancer Rep (Hoboken) 2022, 5 (9), e1565.
Deep Generative Modeling for Quantifying Sample-Level Heterogeneity in Single-Cell Omics
. Boyeau, P.*; Hong, J.*; Gayoso, A.; Jordan, M.; Azizi, E.; Yosef, N. BioRxiv 2022.

Single-Cell Genomic Variation Induced by Mutational Processes in Cancer. Funnell, T.; O'Flanagan, C. H.; Williams, M. J.; McPherson, A.; McKinney, S.; Kabeer, F.; Lee, H.; Salehi, S.; Vazquez-Garcia, I.; Shi, H.; Leventhal, E.; Masud, T.; Eirew, P.; Yap, D.; Zhang, A. W.; Lim, J. L. P.; Wang, B.; Brimhall, J.; Biele, J.; Ting, J.; Au, V.; Van Vliet, M.; Liu, Y. F.; Beatty, S.; Lai, D.; Pham, J.; Grewal, D.; Abrams, D.; Havasov, E.; Leung, S.; Bojilova, V.; Moore, R. A.; Rusk, N.; Uhlitz, F.; Ceglia, N.; Weiner, A. C.; Zaikova, E.; Douglas, J. M.; Zamarin, D.; Weigelt, B.; Kim, S. H.; Da Cruz Paula, A.; Reis-Filho, J. S.; Martin, S. D.; Li, Y.; Xu, H.; de Algara, T. R.; Lee, S. R.;Llanos, V. C.; Huntsman, D. G.; McApine, J. N.; IMAXT Consortium; Shah, S. P.; Aparicio, S. Nature 2022, in press.
Vitamin K: a New Guardian against Ferroptosis. Hirschhorn, T.; Stockwell, B. R. Mol. Cell 2022, 82 (20), 3760-3762.
Copyright © *|CURRENT_YEAR|* *|LIST:COMPANY|*, All rights reserved.
*|IFNOT:ARCHIVE_PAGE|* *|LIST:DESCRIPTION|*

Our mailing address is:
*|HTML:LIST_ADDRESS_HTML|* *|END:IF|*

Want to change how you receive these emails?
You can update your preferences or unsubscribe from this list.

*|IF:REWARDS|* *|HTML:REWARDS|* *|END:IF|*