IICD Newsletter July 2022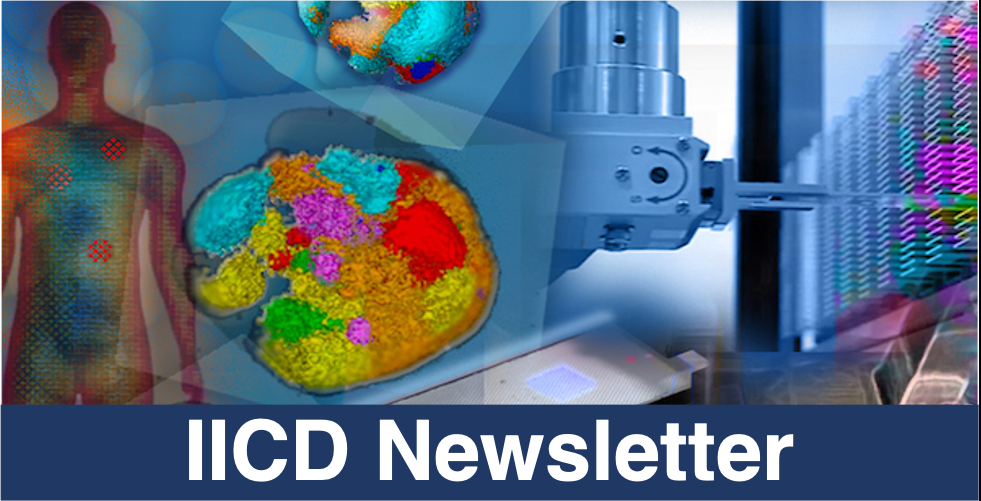 *|MC_PREVIEW_TEXT|*
Champion Hockey Player's Road to Science
Columbia Biomedical Engineering Department, the Irving Institute for Cancer Dynamics, and the New York Genome Center welcome a new faculty member. Dr. Sanja Vickovic's path to cancer research was not a traditional one. Born and raised in Croatia, a professional ice hockey career brought her from Zagreb to Stockholm. However, it was a win for science as she joined an experimental genomics lab at the Royal Institute of Technology to focus on technology development. She hasn't looked back since.
Dr. Vickovic
has pioneered novel spatially resolved transcriptomics and genomics methods that enable massive parallel in situ profiling of intact tissue samples.
In Memoriam Dr. Robert J. Gillies
A few words from IICD Director Simon Tavaré
Dr. Bob Gillies, a leader in radiomics, cancer metabolism and evolution, and an innovator in radiopharmaceuticals and drug development, died June 7th at the age of 69. Bob was a great colleague and friend, and a keen supporter of the IICD. The Moffitt Cancer Center has posted an obituary, which may be found here.
IICD Team at Velocity:
Columbia's Ride to End Cancer
Our Institute was created 4 years ago with the mission to focus on the interplay between mathematical sciences and cancer research, collaborating across disciplinary boundaries to develop aspects of science, engineering and the humanities that can improve understanding of cancer biology, origins, treatment and prevention. For the second year in a row, we are ready to take on the challenge once again to support Your Velocity - with a bigger team! Our team is planning to hike, and some of our members will join the ride on October 2nd! Help us support the life-saving research and comprehensive care for patients and their families at the Herbert Irving Comprehensive Cancer Center (HICCC) by joining our team or donating.
Andrew Blumberg, Invited Plenary Speaker at the 2022 SIAM Annual Meeting
IICD Faculty Member Andrew Blumberg will be the invited plenary speaker at the upcoming Society for Industrial and Applied Mathematics (SIAM) Annual Meeting on Wednesday, July 13. The meeting will be held in Pittsburgh (PA) and virtually from July 11-15. Details here.
Ivan Corwin, IICD Associate Member, was recently selected as a 2022 Simons Investigator. Simons Investigators are outstanding scientists who receive long-term research support from the Simons Foundation to establish creative new research directions, providing leadership to the field, and effectively mentoring junior scientists. Read more.
IICD Welcomes a New Member
Lingting Shi is a postdoctoral research scientist at the Herbert and Florence Irving Institute for Cancer Dynamics. She is co-mentored by Drs. Elham Azizi and José McFaline-Figueroa. Lingting is interested in studying cancer immunology through the lens of single-cell and spatial genomic technologies and computational methods.
Recent Publications from IICD Researchers
Convergent Evolution and Multi-wave Clonal Invasion in H3 K27-altered Diffuse Midline Gliomas Treated with a PDGFR Inhibitor. Arunachalam, S.; Szlachta, K.; Brady, S. W.; Ma, X.; Ju, B.; Shaner, B.; Mulder, H. L.; Easton, J.; Raphael, B. J.; Myers, M.; Tinkle, C.; Allen, S. J.; Orr, B. A.; Wetmore, C. J.; Baker, S. J.; Zhang, J. Acta Neuropathol Commun 2022, 10 (1), 80.

Cytokine Release Syndrome-like Serum Responses After COVID-19 Vaccination are Frequent and Clinically Inapparent Under Cancer Immunotherapy. Walle, T.; Bajaj, S.; Kraske, J. A.; Rosner, T.; Cussigh, C. S.; Kalber, K. A.; Muller, L. J.; Strobel, S. B.; Burghaus, J.; Kallenberger, S. M.; Stein-Thoringer, C. K.; Jenzer, M.; Schubert, A.; Kahle, S.; Williams, A.; Hoyler, B.; Zielske, L.; Skatula, R.; Sawall, S.; Leber, M. F.; Kunes, R. Z.; Krisam, J.;Fremd, C.; Schneeweiss, A.; Krauss, J.; Apostolidis, L.; Berger, A. K.; Haag, G. M.; Zschabitz, S.; Halama, N.; Springfeld, C.; Kirsten, R.; Hassel, J. C.; Jager, D.; NCT ANTICIPATE Investigators; Ungerechts, G. Nat Cancer 2022, in press.
Molecular Characterization of the Tumor Microenvironment in Renal Medullary Carcinoma. Tourigny, D. S.; Zucker, M.; Kim, M.; Russo, P.; Coleman, J.; Lee, C.-H.; Carlo, M. I.; Chen, Y.-B.; Hakimi, A. A.; Kotecha, R. R.; Reznik, E. Frontiers in Oncology 2022, 12.
The Origin of Bladder Cancer from Mucosal Field Effects. Bondaruk, J.; Jaksik, R.; Wang, Z.; Cogdell, D.; Lee, S.;Chen, Y.; Dinh, K. N.; Majewski, T.; Zhang, L.; Cao, S.; Tian, F.; Yao, H.; Kuś, P.; Chen, H.; Weinstein, J. N.; Navai, N.; Dinney, C.; Gao, J.; Theodorescu, D.; Logothetis, C.; Guo, C. C.; Wang, W.; McConkey, D.; Wei, P.; Kimmel, M.; Czerniak, B. iScience 2022, 25 (7), 104551.

Towards a Unified Model of Naive T Cell Dynamics Across the Lifespan. Rane, S.; Hogan, T.; Lee, E.; Seddon, B.; Yates, A. J. eLife 2022, in press.

Tumor-induced Double Positive T Cells Display Distinct Lineage Commitment Mechanisms and Functions. Schad, S. E.; Chow, A.; Mangarin, L.; Pan, H.; Zhang, J.; Ceglia, N.; Caushi, J. X.; Malandro, N.; Zappasodi, R.; Gigoux, M.; Hirschhorn, D.; Budhu, S.; Amisaki, M.; Arniella, M.; Redmond, D.; Chaft, J.; Forde, P. M.; Gainor, J. F.; Hellmann, M. D.; Balachandran, V.; Shah, S.; Smith, K. N.; Pardoll, D.; Elemento, O.; Wolchok, J. D.; Merghoub, T. J Exp Med 2022, 219 (6).
Copyright © *|CURRENT_YEAR|* *|LIST:COMPANY|*, All rights reserved.
*|IFNOT:ARCHIVE_PAGE|* *|LIST:DESCRIPTION|*

Our mailing address is:
*|HTML:LIST_ADDRESS_HTML|* *|END:IF|*

Want to change how you receive these emails?
You can update your preferences or unsubscribe from this list.

*|IF:REWARDS|* *|HTML:REWARDS|* *|END:IF|*