IICD Newsletter May 2022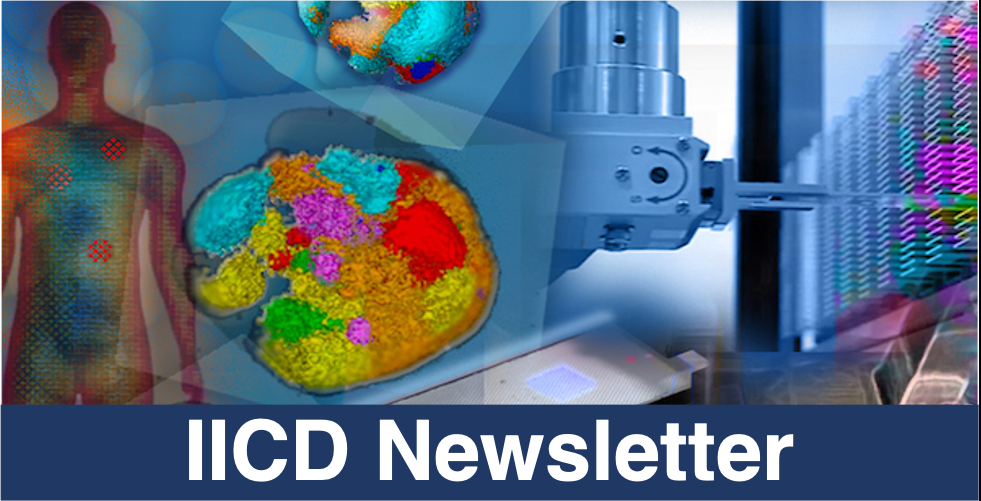 *|MC_PREVIEW_TEXT|*
Jack Yang is enrolled in the MS in Data Science at Columbia University. Following his wife cancer diagnosis, he decided to explore cancer research and started a research project under the mentoring of Dr. Karol Nowicki-Osuch, Associate Research Scientist at the Irving Institute for Cancer Dynamics. They are working on a dynamic cell classification project using single-cell RNA-sequencing data.
Next Speaker in our Virtual Seminar Series
Recurrent Mutation in the Ancestry of a
Rare Allele: Theory and Application
to Human Data
Hosted by Andrew Blumberg, PhD
Time: 4:00 - 5:00 PM (EST)
Date: May 19, 2022
2022 ICML Workshop on Computational Biology (WCB)

This workshop, part of the larger ICML conference, aims to bring together interdisciplinary machine learning researchers working in areas such as computational genomics; neuroscience; metabolomics; proteomics; bioinformatics; cheminformatics; pathology; radiology; evolutionary biology; population genomics; phenomics; ecology, cancer biology; causality; etc. We especially encourage interdisciplinary submissions that might not neatly fit into one of these categories.
Deadline for paper submission is May 8th, 2022.
Building New Tools at the Intersection of Statistical Machine Learning and Causal Inference
IICD and Data Science Institute (DSI) Postdoctoral Research Scientist Mingzhang Yin, co-mentored by David Blei and Simon Tavaré, builds new tools at the intersection of statistical machine learning and causal inference. DSI highlights two of his recent papers related to these topics. Read more.
IICD Welcomes a New Associate Research Scientist
Arash Jamshidpey (previously a postdoc in Simon Tavaré's lab) is interested in probability theory and its applications in population genetics, cancer evolution, genomics and phylogenetics. His current research focuses on population models that are important to understand the co-evolution of cells and/or clones in solid tumors and their microenvironments. Read more.
Recent Publications from IICD Researchers
A Python Library for Probabilistic Analysis of Single-Cell Omics Data. Gayoso, A.; Lopez, R.; Xing, G.; Boyeau, P.; Valiollah Pour Amiri, V.; Hong, J.; Wu, K.; Jayasuriya, M.; Mehlman, E.; Langevin, M.; Liu, Y.; Samaran, J.; Misrachi, G.; Nazaret, A.; Clivio, O.; Xu, C.; Ashuach, T.; Gabitto, M.; Lotfollahi, M.; Svensson, V.; da Veiga Beltrame, E.; Kleshchevnikov, V.; Talavera-Lopez, C.; Pachter, L.; Theis, F. J.; Streets, A.; Jordan, M. I.; Regier, J.; Yosef, N. Nat Biotechnol 2022, 40 (2), 163-166.

Bladder Cancer Cells Shift Rapidly and Spontaneously to Cisplatin-Resistant Oxidative Phosphorylation that is Trackable in Real Time. Xu, T.; Junge, J. A.; Delfarah, A.; Lu, Y. T.; Arnesano, C.; Iqbal, M.; Delijani, K.; Hsieh, T. C.; Hodara, E.; Mehta, H. H.; Cohen, P.; Graham, N. A.; Fraser, S. E.; Goldkorn, A. Sci Rep 2022, 12 (1), 5518.
Breast Tumor Microenvironment Structures are Associated with Genomic Features and Clinical Outcome. Danenberg, E.; Bardwell, H.; Zanotelli, V. R. T.; Provenzano, E.; Chin, S. F.; Rueda, O. M.; Green, A.; Rakha, E.; Aparicio, S.; Ellis, I. O.; Bodenmiller, B.; Caldas, C.; Ali, H. R. Nat Genet 2022, in press.
Dose-Response Modeling in High-Throughput Cancer Drug Screenings: an End-to-End Approach. Tansey, W.; Li, K.; Zhang, H.; Linderman, S. W.; Rabadan, R.; Blei, D. M.; Wiggins, C. H. Biostatistics 2022, 23 (2), 643-665.

Rearrangement Processes and Structural Variations Show Evidence of Selection in Oesophageal Adenocarcinomas. Ng, A. W. T.; Contino, G.; Killcoyne, S.; Devonshire, G.; Hsu, R.; Abbas, S.; Su, J.; Redmond, A. M.; Weaver, J. M. J.; Eldridge, M. D.; Tavaré, S.; Oesophageal Cancer Clinical and Molecular Stratification (OCCAMS) Consortium; Edwards, P. A. W.; Fitzgerald, R. C. Commun Biol 2022, 5 (1), 335.
Copyright © *|CURRENT_YEAR|* *|LIST:COMPANY|*, All rights reserved.
*|IFNOT:ARCHIVE_PAGE|* *|LIST:DESCRIPTION|*

Our mailing address is:
*|HTML:LIST_ADDRESS_HTML|* *|END:IF|*

Want to change how you receive these emails?
You can update your preferences or unsubscribe from this list.

*|IF:REWARDS|* *|HTML:REWARDS|* *|END:IF|*