IICD Newsletter November 2023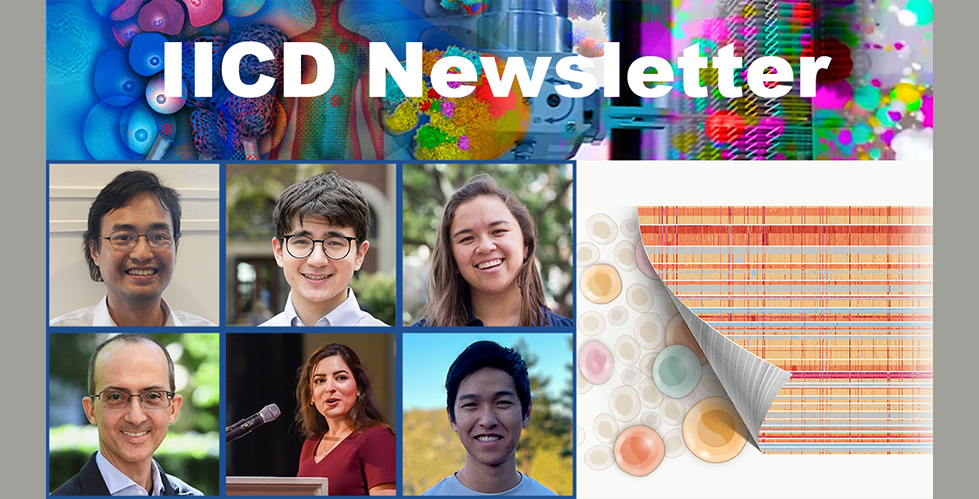 *|MC_PREVIEW_TEXT|*
Faces of IICD: Khanh Dinh
Khanh Dinh is an associate research scientist at the IICD. Khanh's background is in computational mathematics. His work has been focused on modeling and simulating a framework that can characterize the timeline of genomic changes during cancer development to determine how cancer adapts and evolves. In the latest "Faces of IICD" blog series, Khanh shares about what mentoring and helping the next generation of cancer researchers means to him.
Next Speaker in the IICD Seminar Series
Quantifying Evolutionary Dynamics
of Cancer
Hosted by Simon Tavaré, FRS
Date: November 8th, 2023
at 2 PM (ET)
Location: Fairchild 700 and online
IICD graduate student Russell Kunes, together with Thomas Walle, Dana Pe'er, and collaborators at Memorial Sloan Kettering Cancer Center, developed an open-source computational method to improve decoding of single-cell transcriptomic data. The findings were recently published in Nature Biotechnology. Read more.
Congratulations to IICD member Brent Stockwell who was elected to the National Academy of Medicine. Founded in 1970 as the Institute of Medicine, NAM is one of three academies that make up the National Academies of Sciences, Engineering, and Medicine (the National Academies) in the United States. Read more.
Justin Hong and Cameron Park, IICD graduate students, presented some of their work at the
Single Cell Genomics 2023 conference
(October 9th-11th, Engelberg, Switzerland) on sparse differentiable causal graph interference and spatiotemporal modeling of the leukemia marrow microenvironment, respectively.
Elham Azizi gave a talk at a fundraising event "Comedy Against Cancer" for the American Cancer Society on September 28th. "It was such a privilege to meet and share our work with the community who funded my ACS postdoctoral fellowship back in 2017. The funding paved the way for my research and securing next grants for starting my lab."
Gordon Research Conference (GRC) and Gordon Research Seminar (GRS)
on Single-Cell Cancer Biology


The Gordon Research Conference on Single-Cell Cancer Biology (June 9-14, 2024) will bring together leading researchers with different backgrounds that use single cell and spatial technologies to address a range of problems in basic cancer biology, translational, and clinical oncology. GRC will be preceded by the inaugural Gordon Research Seminar (June 8-9, 2024), a unique forum for young doctoral and post-doctoral researchers in the field to present their work, discuss new methods, cutting edge ideas, and pre-published data, as well as to build collaborative relationships with their peers. Applications are now being accepted by the conference chairs and all are encouraged to apply.


AI Meets Cancer Research Symposium

The AI Meets Cancer Research Symposium will be held on November 29-30, 2023 in Barcelona, Spain. This international event is a joint program with the Barcelona Supercomputing Center (BSC), the Scientific Foundation of the Spanish Association Against Cancer, and two Columbia University Medical Center groups: the Herbert Irving Comprehensive Cancer Center (HICCC) and the Program for Mathematical Genomics, Dept. of Systems Biology (PMG). Registration is open.
Recent Publications from IICD Researchers
Co-Evolution of AR Gene Copy Number and Structural Complexity in Endocrine Therapy Resistant Prostate Cancer. Zivanovic, A.; Miller, J. T.; Munro, S. A.; Knutson, T. P.; Li, Y.; Passow, C. N.; Simonaitis, P.; Lynch, M.; Oseth, L.; Zhao, S. G.; Feng, F. Y.; Wikstrom, P.; Corey, E.; Morrissey, C.; Henzler, C.; Raphael, B. J.; Dehm, S. M. NAR Cancer 2023, 5 (3), zcad045.

Comparison of Tug-of-War Models Assuming Moran versus Branching Process Population Dynamics. Dinh, K. N.; Kurpas, M. K.; Kimmel, M. bioRxiv 2023.
Dehydroascorbic Acid Sensitizes Cancer Cells to System xc-Inhibition-Induced Ferroptosis by Promoting Lipid Droplet Peroxidation. Ferrada, L.; Barahona, M. J.; Vera, M.; Stockwell, B. R.; Nualart, F. Cell Death Dis 2023, 14 (9), 637.

Determinants of Survival with Combined HER2 and PD-1 Blockade in Metastatic Esophagogastric Cancer. Maron, S. B.; Chatila, W.; Walch, H.; Chou, J. F.; Ceglia, N.; Ptashkin, R.; Do, R. K. G.; Paroder, V.; Pandit-Taskar, N.; Lewis, J. S.; Biachi De Castria, T.; Sabwa, S.; Socolow, F.; Feder, L.; Thomas, J.; Schulze, I.; Kim, K.; Elzein, A.; Bojilova, V.; Zatzman, M.; Bhanot, U.; Nagy, R. J.; Lee, J.; Simmons, M.; Segal, M.; Ku, G. Y.; Ilson, D. H.; Capanu, M.; Hechtman, J. F.; Merghoub, T.; Shah, S.; Schultz, N.; Solit, D. B.; Janjigian, Y. Y. Clin Cancer Res 2023, 29 (18), 3633-3640.

Expansion Microscopy Using a Single Anchor Molecule for High-Yield Multiplexed Imaging of Proteins and RNAs. Cui, Y.; Yang, G.; Goodwin, D. R.; O'Flanagan, C. H.; Sinha, A.; Zhang, C.; Kitko, K. E.; Shin, T. W.; Park, D.; Aparicio, S.; CRUK IMAXT Grand Challenge Consortium; Boyden, E. S. PLoS One 2023, 18 (9), e0291506.

Mapping the Topography of Spatial Gene Expression with Interpretable Deep Learning. Chitra, U.; Arnold, B. J.; Sarkar, H.; Ma, C.; Lopez-Darwin, S.; Sanno, K.; Raphael, B. J. bioRxiv 2023.
Progressive Plasticity during Colorectal Cancer Metastasis. Moorman, A. R.; Cambuli, F.; Benitez, E. K.; Jiang, Q.; Xie, Y.; Mahmoud, A.; Lumish, M.; Hartner, S.; Balkaran, S.; Bermeo, J.; Asawa, S.; Firat, C.; Saxena, A.; Luthra, A.; Sgambati, V.; Luckett, K.; Wu, F.; Li, Y.; Yi, Z.; Masilionis, I.; Soares, K.; Pappou, E.; Yaeger, R.; Kingham, P.; Jarnagin, W.; Paty, P.; Weiser, M. R.; Mazutis, L.; D'Angelica, M.; Shia, J.; Garcia-Aguilar, J.; Nawy, T.; Hollmann, T. J.; Chaligne, R.; Sanchez-Vega, F.; Sharma, R.; Pe'er, D.; Ganesh, K. bioRxiv 2023.
Copyright © *|CURRENT_YEAR|* *|LIST:COMPANY|*, All rights reserved.
*|IFNOT:ARCHIVE_PAGE|* *|LIST:DESCRIPTION|*

Our mailing address is:
*|HTML:LIST_ADDRESS_HTML|* *|END:IF|*

Want to change how you receive these emails?
You can update your preferences or unsubscribe from this list.

*|IF:REWARDS|* *|HTML:REWARDS|* *|END:IF|*