IICD Newsletter January 2022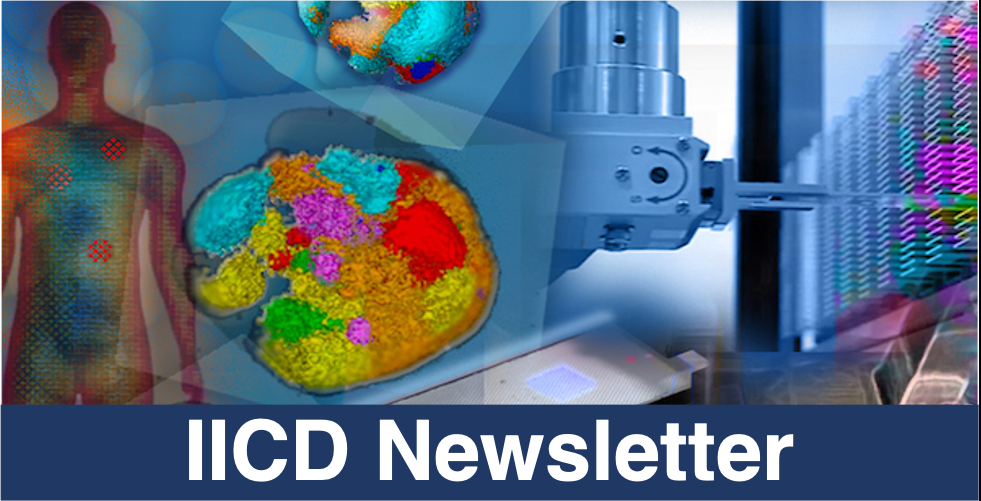 *|MC_PREVIEW_TEXT|*
Dear Colleagues,
While the past two years have been challenging, the Herbert and Florence Irving Institute for Cancer Dynamics has started its third year with several achievements. After 18 months of working remotely, most of our researchers have come back in person during the Fall semester. During this period, the Institute continued to grow and currently includes
18 faculty
(3 faculty members, 11 associate members, 4 affiliate members),
3 associate research scientists
,
6 postdoctoral research scientists
, and
10 graduate students
. IICD also welcomed four new members among the
administrative/staff team
.
Research Highlights:
We were very excited to welcome Dr. Andrew Blumberg, Herbert and Florence Irving Professor of Cancer Data Research and Professor of Mathematics and Computer Science,
who joined IICD in January 2021
. Dr. Blumberg brings his expertise in algebraic topology and topological data analysis. He is particularly interested in applying geometry and algebraic topology to analyze 'omic data. He was awarded three grants from the National Science Foundation and the Office of Naval Research and he was recently named a
2022 Fellow of the American Mathematical Society
.
Since joining IICD in 2020, Dr. Elham Azizi, Assistant Professor of Biomedical Engineering and Herbert and Florence Irving Assistant Professor of Cancer Data Research, has been very active in building her research lab and mentoring 20 researchers at different stages of their careers, from high school interns to postdocs. Her first masters student, Lauren Friend, graduated last year and is now a Data Scientist at Johnson and Johnson. In 2021, Dr. Azizi received a
Columbia RISE grant
(Research Initiatives in Science and Engineering) and an
NIH R21 grant
(as a co-investigator) with Dr. Benjamin Izar, Assistant Professor of Medicine. Moreover, she started setting up her experimental laboratory in the Mary Woodard Lasker Biomedical Research Building at Columbia University Irving Medical Center.
IICD welcomed
Dr. José McFaline-Figueroa as an Associate Member
. He joined Columbia University in January 2021 as an Assistant Professor of Biomedical Engineering. His research aims to define the molecular changes that cancer cells undergo in response to therapy and the genetic requirements of that response.
Finally, Dr. Karol Nowicki-Osuch joined
the Institute as an Associate Research Scientist
. Before joining the Institute, Dr. Nowicki-Osuch was a postdoctoral research associate in Prof. Rebecca Fitzgerald's laboratory at the University of Cambridge. His experience and interests lie at the interface between wet- and dry-lab cancer biology research. At IICD, he is leading the development of single-cell methods for the analysis of solid tumors in collaboration with the New York Genome Center and Cambridge University, with a particular focus on esophageal cancer.
Collaboration Highlights:
A key mission of our Institute is to build collaborations with various Columbia departments and research centers. To this end, the Institute supports the development of instrumentation throughout the campus, including three instruments purchased with the Department of Biological Sciences. Collaborating with Dr. Darcy Peterka (Scientific Director of Cellular Imaging at Columbia's Zuckerman Institute), IICD is also setting up a
serial two-photon tomography system
with an automated collector to image and annotate tissue samples. The instrument will be housed in the Zuckerman Mind Brain Behavior Institute (ZMBBI). We also established a Virtual Reality suite in the IICD space to visualize tumors in 3D. The use of our VR suite in cancer research was
recently showcased in a Columbia news video
.
IICD has also strengthened its partnership with the Herbert Irving Comprehensive Cancer Center (
HICCC 2021 Report
) - particularly via the newly formed
Center for Precision Cancer Medicine
directed by Adam Bass, MD - and several departments in the Fu Foundation School of Engineering and Applied Science and the Faculty of Arts and Sciences. Several of our graduate students and postdocs are co-advised by two faculty from different departments, fostering these collaborations.
Moreover, the Institute has partnered with the New York Genome Center to build a DLP+ scalable single-cell whole-genome DNA sequencing system to analyze copy number profiles in solid tumors. Dr. Karol Nowicki-Osuch is
spearheading the project
.
Education & Outreach Highlights:
Over the last year, we expanded our
education and outreach programming
, building new partnerships within and outside Columbia University. Starting in Fall 2021, the Institute is hosting a
virtual monthly seminar series
on the topic of mathematical sciences underpinning cancer research. We have a great line-up of speakers for Spring 2022; you can register for our upcoming seminars
here
.
We are also very excited to announce the launch of an
IICD summer research internship for undergraduates
in 2022 to increase their awareness of the intersection between cancer research and mathematical sciences. Furthermore, the Institute initiated a
new partnership with the Columbia Bridge to the Ph.D. Program
. This program was established to increase the participation of students from underrepresented groups in Ph.D. programs in STEM disciplines. IICD will partner with the Bridge Program to mentor one Bridge scholar per year.
Finally, we have an ongoing recruitment for two Associate Research Scientist (ARS) positions in our
Path to Independence Program
. Testament to the success of our program, Dr. David S. Tourigny (2020 ARS cohort) will join the University of Birmingham (UK) as a Birmingham Fellow position (equivalent to an Assistant Professor rank) in Fall 2022.
Looking ahead, while we are still at the mercy of the ever-evolving SARS-CoV-2 virus, we are all hoping for a return to a more 3D research life. We hope to host hybrid seminars next year, and to offer many more opportunities for the face-to-face meetings that are such an important part of the scientific endeavor. We also hope that 2022 will bring new colleagues along!
With best wishes from the IICD,
Simon Tavaré
Director, Irving Institute for Cancer Dynamics
Copyright © *|CURRENT_YEAR|* *|LIST:COMPANY|*, All rights reserved.
*|IFNOT:ARCHIVE_PAGE|* *|LIST:DESCRIPTION|*

Our mailing address is:
*|HTML:LIST_ADDRESS_HTML|* *|END:IF|*

Want to change how you receive these emails?
You can update your preferences or unsubscribe from this list.

*|IF:REWARDS|* *|HTML:REWARDS|* *|END:IF|*