IICD Newsletter March 2022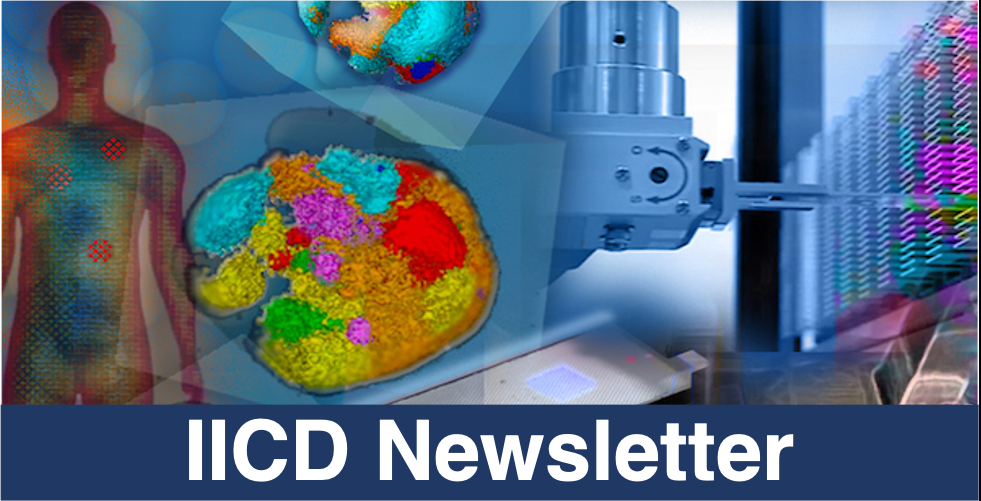 *|MC_PREVIEW_TEXT|*
IICD Partners with the Alliance Program to Host Students from the
École Polytechnique
The Alliance Program collaborates with Columbia University and three French higher education institutions (École Polytechnique, Sciences Po, and Paris 1 Panthéon-Sorbonne University) to facilitate the exchange of students and research scholars, and to foster academic collaborations between the four institutions. IICD recently partnered with the program to enable students from the École Polytechnique to carry out internships at the Institute. The first intern will join Dr. Simon Tavaré's lab
later this month.
Next Speaker in our Virtual Seminar Series
Estimating Dynamic Cell Abundances
from Gene Expression Data
of Bulk Tissues
Hosted by Simon Tavaré, FRS
Time: 4:00 - 5:00 PM (EST)
Date: March 17, 2022
Elham Azizi and José McFaline-Figueroa Receive NSF CAREER Awards
IICD
Faculty Elham Azizi (left) received a National Science Foundation CAREER Award for her research project titled "Integrative modeling of intercellular interactions in the tumor microenvironment." Learn more on the IICD website and Columbia Engineering news.
IICD Associate Member
José McFaline-Figueroa (right) received a NSF CAREER Award for his research project on "Defining kinase-driven cellular response networks using single-cell genomics." Read here
Women's History Month Series
IICD Welcomes a New Intern
Elisa Bergomi is a third-year student at
the École Polytechnique
. She will join Dr. Simon Tavaré's team later this month as part of the newly established partnership between IICD and the Alliance. Her project will focus on clonal evolution in tumors, applying advanced mathematical techniques to the modeling of cancer evolution.
Read more
Recent Publications from IICD Researchers
Belayer: Modeling Discrete and Continuous Spatial Variation in Gene Expression from Spatially Resolved Transcriptomics. Ma, C.; Chitra, U.; Zhang, S.; Raphael, B. J. BioRxiv. 2022.
Defining the Dynamics of Naive CD4 and CD8 T Cells Across the Mouse Lifespan. Rane, S.; Hogan, T.; Lee, E.; Seddon, B.; Yates, A. J. BioRxiv 2021.
Machine Learning Classifies Ferroptosis and Apoptosis Cell Death Modalities with TfR1 Immunostaining
. Jin, J.; Schorpp, K.; Samaga, D.; Unger, K.; Hadian, K.;
Stockwell, B. R.
ACS Chem Biol.
2022
,
in press.
Multi-Modal Single-cell and Whole-Genome Sequencing of Minute, Frozen Specimens to Propel Clinical Applications. Wang, Y.*; Fan, J. L.*; Melms, J. C.; Amin, A. D.; Georgis, Y.; Ho, P.; Tagore, S.; Abril-Rodriguez, G.; Biermann, J.; Hofree, M.; Caprio, L.; Berhe, S.; Khan, S. H.; Henick, B. S.; Ribas, A.; Taylor, A. M.; Schwartz, G. K.; Carvajal, R. D.; Azizi, E.#; Izar, B.# BioRxiv 2021.
NetMix2: Unifying Network Propagation and Altered Subnetworks. Chitra, U.; Park, T. Y.; Raphael, B. J. BioRxiv. 2022.

SuperDendrix Algorithm Integrates Genetic Dependencies and Genomic Alterations Across Pathways and Cancer Types. Park, T. Y.; Leiserson, M. D. M.; Klau, G. W.; Raphael, B. J. Cell Genomics 2022, 2(2), 100099.
Copyright © *|CURRENT_YEAR|* *|LIST:COMPANY|*, All rights reserved.
*|IFNOT:ARCHIVE_PAGE|* *|LIST:DESCRIPTION|*

Our mailing address is:
*|HTML:LIST_ADDRESS_HTML|* *|END:IF|*

Want to change how you receive these emails?
You can update your preferences or unsubscribe from this list.

*|IF:REWARDS|* *|HTML:REWARDS|* *|END:IF|*