IICD Newsletter September 2022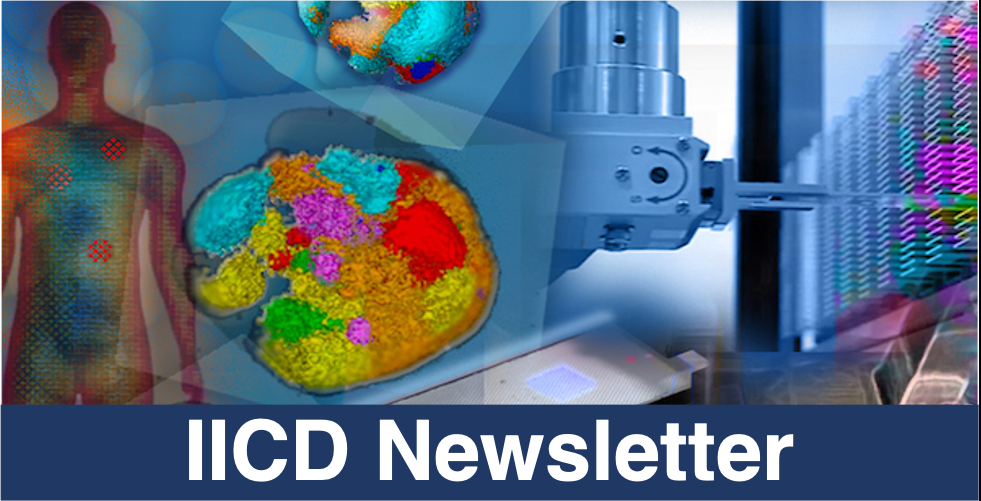 *|MC_PREVIEW_TEXT|*
A New Summer Research Program for Undergraduate Students at IICD
This summer, the Irving Institute for Cancer Dynamics opened its door to five non-Columbia undergraduate interns who carried out research projects for ten weeks. The students had an opportunity to perform research at the intersection of cancer biology and mathematical sciences under the mentoring of IICD researchers.
IICD will continue its seminar series on the topic of mathematical sciences underpinning cancer research during the 2022-2023 academic year.

The presentations are open to the Columbia community and to researchers outside Columbia. Seminars will be held in person (Columbia members only) and online via Zoom.
First Speaker in our 2022-2023 Seminar Series
Sptial Multi-Omics Technology at Scale
j
Hosted by Simon Tavaré, FRS
Date: September 21, 2022
Time: 2:00 - 3:00 PM (ET)
Location: Schermerhorn Hall 603
and via Zoom
Congratulations to IICD Associate Faculty Chin Hur, Professor of Medicine, who
has been named a Velocity Fellow and awarded a pilot grant to support early-stage cancer research for a project titled "Real World Integration of Liquid Biopsy Cancer Tests into Gastrointestinal Cancer Early Detection." Read more.
Congratulations to IICD Researchers Brent Stockwell and Elham Azizi who were awarded a seed grant from the Herbert Irving Comprehensive Cancer Center (HICCC) and Columbia Engineering for a project titled "Identifying 3D tumor metabolic neighborhoods using mass spectrometry imaging and machine learning". Read more.
ICML Workshop for Computational Biology
IICD sponsored four fellowships covering the registration to attend the
Workshop for Computational Biology
, part of the larger 2022 International Conference on Machine Learning. The awardees were Yatong Chen (PhD student in computer science and engineering at the University of California, Santa Cruz), Pooja Kathail (PhD student in computational biology at the University of California, Berkeley), Yanan Long (PhD student in chemistry at the University of Chicago), and Julia Zhao (undergraduate student in biomedical engineering and computer science at Columbia University).
From left to right: Achille Nazaret, Joy Fan, Cameron Park and Shouvik Mani
Congratulations to Achille Nazaret (co-mentored by Elham Azizi and David Blei) and Joy Fan (mentored by Elham Azizi) for winning best poster award ("Probabilistic Basis Decomposition for Characterizing Temporal Dynamics of Gene Expression") and to Cameron Park and Shouvik Mani (mentored by Elham Azizi) for receiving best paper award ("DIISCO: Dynamic Intercellular Interactions in Single Cell Transcriptomics) at WCB.

IICD Team at Velocity: Columbia's Ride to End Cancer
For the second year in a row, we are ready to take on the challenge once again to support Your Velocity - with a bigger team! Our team is planning to hike, and some of our members will join the ride on October 2nd! Help us support the life-saving research and comprehensive care for patients and their families at the Herbert Irving Comprehensive Cancer Center (HICCC) by joining our team or donating.
Recent Publications from IICD Researchers
Accurate Determination of CRISPR-mediated Gene Fitness in Transplantable Tumours. Eirew, P.; O'Flanagan, C.; Ting, J.; Salehi, S.; Brimhall, J.; Wang, B.; Biele, J.; Algara, T.; Lee, S. R.; Hoang, C.; Yap, D.; McKinney, S.; Bates, C.; Kong, E.; Lai, D.; Beatty, S.; Andronescu, M.; Zaikova, E.; Funnell, T.; Ceglia, N.; Chia, S.; Gelmon, K.; Mar, C.; Shah, S.; Roth, A.; Bouchard-Côté, A.; Aparicio, S. Nature Communications 2022, 13 (1), 4534.
GLS2 is a Tumor Suppressor and a Regulator of Ferroptosis in Hepatocellular Carcinoma. Suzuki, S.; Venkatesh, D.; Kanda, H.; Nakayama, A.; Hosokawa, H.;Lee, E.; Miki, T.; Stockwell, B. R.; Yokote, K.; Tanaka, T.; Prives, C. Cancer Res 2022, in press.
Gradient Estimation for Binary Latent Variables via Gradient Variance Clipping. Kunes, R. Z.; Yin, M.; Land, M.; Haviv, D.; Pe'er, D.; Tavaré, S. ArXiv 2022.
Universality of the Homotopy Interleaving Distance. Blumberg, A. J.; Lesnick, M. Trans Am. Math. Soc. 2022, accepted.
Copyright © *|CURRENT_YEAR|* *|LIST:COMPANY|*, All rights reserved.
*|IFNOT:ARCHIVE_PAGE|* *|LIST:DESCRIPTION|*

Our mailing address is:
*|HTML:LIST_ADDRESS_HTML|* *|END:IF|*

Want to change how you receive these emails?
You can update your preferences or unsubscribe from this list.

*|IF:REWARDS|* *|HTML:REWARDS|* *|END:IF|*