Breaking Barriers — the BOLD Way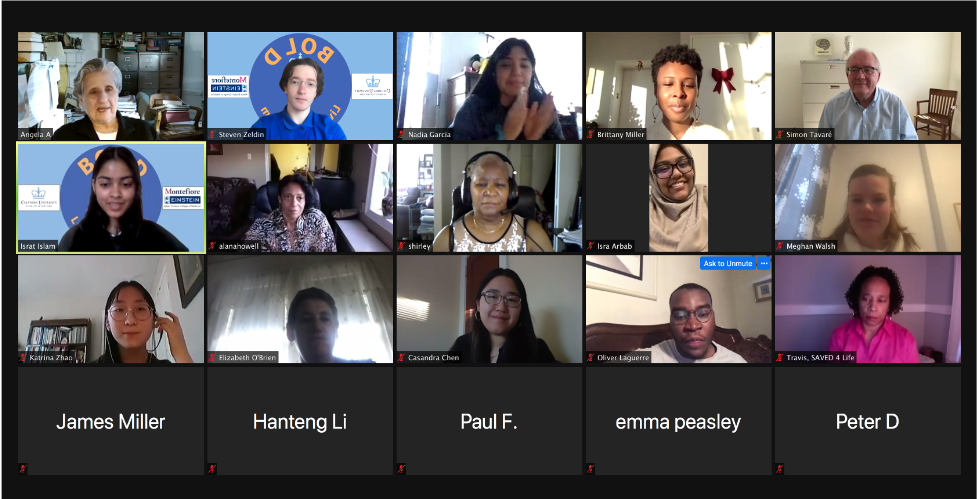 *|MC_PREVIEW_TEXT|*
Breaking Barriers — the BOLD way

"To be fully compassionate towards the ill, one must recognize them by more than their disease: they are unique, multifaceted, and often under-served individuals. Through letting me get to know cancer patients in New York's most disadvantaged borough, BOLD showed me the true depth of their struggles—and allowed me to mold myself into a more caring, aware, and capable person", reflected Steven Zeldin, on his experience in the Columbia-BOLD program, which he has been heading with three other undergraduates from Columbia University and Barnard College, since August 2020. The Columbia Chapter supports the Bronx Oncology Living Daily (BOLD) program at the Einstein/Montefiore Center for Cancer Care, through fundraising and leading volunteer activities by student interns.

BOLD is a free and very active cancer wellness initiative and psychosocial oncology program, founded by Dr. Alyson Moadel-Robblee, Professor of Clinical Epidemiology at the Albert Einstein College of Medicine, Montefiore Health System in 2008¬—with the goal of serving one of the most disadvantaged and underserved cancer patient populations in the US, that of the Bronx.
Columbia BOLD event
Why the Bronx?
Disparities in cancer incidence, diagnosis and mortality associated with socioeconomic status in the United States are well established. While life with cancer can undoubtedly be stressful for all, people with lower socioeconomic status bear a disproportionate burden of the disease in many ways. Access to care, including cancer screening, treatment, and health insurance coverage, are some of the obvious reasons behind this. There is more, however. From the psychosocial perspective, Dr. Moadel-Robblee mentions that some of the barriers she is trying to address derive from sociocultural conditions that have engendered medical mistrust, social isolation, and stigma around both cancer and mental health care, all of which can lead to delays and deterrents to treatment. When these barriers are met with understanding and personalized care, a deeper level of trust grows that empowers patients to self-advocate for rather than avoid early and optimal health care.

What does BOLD do?
The BOLD program started in response to the call from the cancer patients in the Bronx, reporting high distress and interest in psychosocial support. The program evolved from this ongoing needs assessment of the community – with an overarching mission to empower patients to take control of their physical and mental health. The psychosocial team comprises mind-body practitioners, mental health specialists, trained interns and cancer survivor volunteers. The team works closely with the oncology team to support the cancer community through the journey. Besides counseling, BOLD offers workshops and activities for promoting optimal physical and emotional quality of life and community, including mind-body support, wellness events, creative arts, nutritional/physical activities and educational programs. In addition, the BOLD Buddy Peer Navigation Program was launched in 2011 in response to the call from patients to connect with people with similar experiences, with self-select cancer survivors simultaneously desiring to volunteer by offering peer support. While the BOLD Buddy roles of treatment companion and oncology clinic greeter are not viable during the pandemic, they have played an invaluable role in offering daily telephone support and resource navigation to the many anxious and isolated cancer patients diagnosed with cancer during this public health crisis.

Impact and Experiences of BOLD Buddies:
Based on pre-pandemic data, the BOLD Buddy program has had substantial impact on patients enrolled, with 81% reporting reduced emotional distress and isolation, more than 57% reporting reduced medical mistrust and better communication with health care providers, and 46% reporting increased treatment adherence. Preliminary data collected during the pandemic point to a marked increase in both distress (46% to 63%) and requests (29% to 47%) for BOLD Buddy support. The impact of the program on physical and emotional outcomes is currently under study.

Here are some stories from the BOLD Buddies themselves:
"Several months after chemotherapy and radiation, I realized I was not handling my cancer diagnosis as well as I thought. I was not getting the answers to questions I had about what the treatment was doing to me inside and all the side effects of treatment that I had to deal with. I was introduced to BOLD for my counseling after failed attempts trying to find a support group within my community and psychologist sessions which were simply unaffordable. I started with one-on-one sessions followed by taking part in a support group where I could always find someone who had/was experiencing the same things I was going through. My anxiety slowly started to subside. In addition, BOLD also helped me find a great team of supportive doctors."
"After working at Welcome Tables in the Cancer Centers and learning about myself, I was determined to help patients. I wanted them to know that I would be there if they needed to talk and if they had questions. I started to volunteer as a BOLD Buddy and referred all my patients to BOLD. I now take advantage of most of the exercises classes including Dance Movement class, Yoga, Book Club and Meditation to name a few. I am physically and mentally healthier now than when I was first diagnosed. I tell my clients/patients that all the classes will help them refocus their attention on getting well/heathier mentally as well as physically. I also let them know that volunteering and helping other cancer patients will also help them to refocus on someone other than themselves. BOLD has done that for me and so much more. BOLD Buddy Peer Navigator, Shirley"

"Four months after retiring from a job that I loved for 44 years, I was given the worst news ever- that I had liver cancer. All my dreams were immediately destroyed. The only thing I could think was that I was dying. During the months ahead, I had to visit my cancer team doctors regularly. It wasn't long before I received a call asking if I would like to join the BOLD Volunteer Program at Montefiore Einstein. Though I didn't know anything about the program, I replied yes. I needed something to keep my mind off of my condition. I attended an orientation and several training classes to become a Doula for BOLD."

"BOLD Doulas are compassionate, trained volunteers who visit cancer patients in the hospital and encourage the patient to think and stay positive about their cancer and illness. Before long, I realized that not only was I comforting others and reducing their isolation, but they were helping me as well to deal with my cancer too. While COVID-19 has changed the way we communicate with our patients, it has not stopped our commitment and dedication. Regular phone calls and zooms sessions have kept us connected to our patients. I am glad to be part of the BOLD family, which is a committed group of individuals, who not only interacts with patients but is committed to their own BOLD members. BOLD Buddy Doula, Cecelia"
How can we as a community get involved/help?
As Dr. Moadel-Robblee puts it, "It takes a village!" This couldn't be more true for the community-driven initiative and vision she has for the program - "to learn from the community directly and empower and nurture them, where everyone works together to shape the direction, breadth and spirit of this Bronx-born Cancer Wellness Program". The program has been made possible through financial support from various sources and the help of volunteers desiring to give back to the community and make a difference for those who need it the most. As awareness about the program grows, the demand for the services offered by the program is outpacing its capacity both in terms of human resources and financial resources. Please follow the links if you'd like to learn more about the program, volunteer or donate. In addition, this psychosocial oncology program is research driven. If anyone would like to learn more, please get in touch with Dr. Moadel-Robblee directly via email.

In addition, though a new branch of BOLD, the Columbia Chapter has already had success in spreading awareness of Bronx cancer patients' plights. Their inaugural event, "Pandemic and Poverty: 2020's Devastating Effects on Bronx Cancer Patients", brought a diverse set of speakers—from experts in immunology, to cancer-screening, to even battling against cancer as patients themselves—in contact with students around New York. Students from Columbia and the greater New York City area who would like to learn more about Columbia BOLD or volunteer in fundraising and other activities, can get in touch with Columbia Bold via email.
⏤Presha Rajbhandari
Copyright © *|CURRENT_YEAR|* *|LIST:COMPANY|*, All rights reserved.
*|IFNOT:ARCHIVE_PAGE|* *|LIST:DESCRIPTION|*

Our mailing address is:
*|HTML:LIST_ADDRESS_HTML|* *|END:IF|*

Want to change how you receive these emails?
You can update your preferences or unsubscribe from this list.

*|IF:REWARDS|* *|HTML:REWARDS|* *|END:IF|*