IICD Newsletter June 2022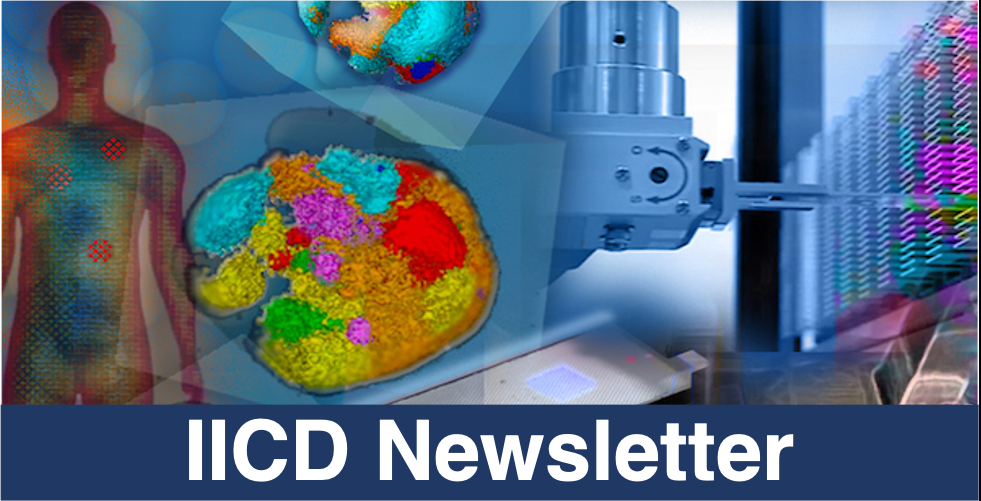 *|MC_PREVIEW_TEXT|*
IICD Launches its First Summer Research Internship for Undergraduates
IICD offers a Summer Research Internship for Undergraduates for the first time. The Institute will host five interns for 10-weeks. Students will work full-time on a research project under the mentoring of an IICD researcher and will attend weekly events, such as scientific seminars, workshops, career and professional development events, etc.
Next Speaker in our Virtual Seminar Series
Tracking Cancer Evolution
in Space and Time
Hosted by Simon Tavaré
Time: 4:00 - 5:00 PM (EST)
Date: June 16, 2022
IICD Welcomes Two New Members
Sohrab Salehi (left) joins as a postdoctoral research fellow at Memorial Sloan Kettering in the Department of Epidemiology and Biostatistics and a postdoctoral research scientist at the Irving Institute for Cancer Dynamics under Drs.
Sohrab Shah
and
David Blei
. His research focuses on causal inference in cancer evolution.

Marcy Ruano (right) joins IICD as the new Business Manager. She will work closely with Dr. Sophie Thuault-Restituito, Chief of Staff, to manage the IICD budget and daily financial operations. Prior to joining the IICD, Marcy was part of Columbia College's finance team and was responsible for financial planning and analysis. Marcy has also worked at Columbia University Irving Medical Center in the division of Neuro-Oncology where she coordinated the launch of a new multi-disciplinary clinic. Marcy received her B.S. in Health Services Administration from CUNY Lehman College and completed her M.P.A. degree with a concentration in Advanced Management and Finance from Columbia University School of International and Public Affairs.
New Method Melds Data to Make a 3-D Map of Cells' Activities.
IICD Affiliate Member Benjamin Raphael recently published a new study in Nature Methods
. In this paper, the authors described a new method "PASTE" to elucidate a cell's surroundings. Read more.
Come Visit us in our Renovated Offices!
The renovation of our office suite is officially over. We have two new offices and a new lobby area. Come visit us in Schermerhorn Hall, Suite 601, on the Morningside campus of Columbia. See more.
Cong Ma received a Damon Runyon Quantitative Biology Postdoctoral Fellowship. Cong is a postdoc co-mentored by IICD Affiliate Member Benjamin Raphael and Li Ding (Washington University) at Princeton University. She aims to characterize intra-tumor genetic and epigenetic heterogeneity, and to develop 3D tumor models that capture this heterogeneity across multiple cancer types. Read more.
José McFaline-Figueroa was awarded a Junior Faculty Grant through the Office of the Provost Grants Program for Junior Faculty who Contribute to the Diversity Goals of the University for his research project "Genetic Determinants of Tumor-immune Cell Interactions". Read more.
Brent Stockwell received the Dean Peter Awn Commitment to the LGBTQ Community Faculty Award. This award recognizes faculty, staff and/or departments who have exhibited a commitment to LGBTQ community in their work at Columbia University and Barnard College. Read more.
Recent Publications from IICD Researchers
Alignment and Integration of Spatial Transcriptomics Data. Zeira, R.; Land, M.; Strzalwski, A.; Raphael, B. J. Nat. Methods 2022, 19, 567-575.
Fundamental Immune-oncogenicity Trade-offs Define Driver Mutation Fitness. Hoyos, D.; Zappasodi, R.; Schulze, I.; Sethna, Z.; de Andrade, K. C.; Bajorin, D. F.; Bandlamundi, C.; Callahan, M. K.; Funt, S. A.; Hadrup, S. R.; Holm, J. S.; Rosenberg, J. E.; Shah, S. P.; Vazquez-Garcia, I.; Weigelt, B.; Wu, M.; Zamarin, D.; Campitelli, L. F.; Osborne, E. J.; Klinger, M.; Robins, H. S.; Khincha, P. P.; Savage, S. A.; Balachandran, V. P.; Wolchok, J. D.; Hellmann, M. D.; Merghoub, T.; Levine, A. J.; Luksza, M.; Greenbaum, B. D. Nature 2022, in press.
GeneVector: Identification of Transcriptional Programs Using Dense Vector Representations Defined by Mutual Information. Ceglia, N.; Sethna, Z.; Uhlitz, F.; Bojilova, V.; Rusk, N.; Burman, B.; Chow, A.; Salehi, S.; Kabeer, F.; Aparicio, S.; Greenbaum, B.; Shah, S. P.; McPherson, A. BioRxiv 2022.

KINOMO: A Non-negative Matrix Factorization Framework for Recovering Intra- and Inter-Tumoral Heterogeneity from Single-cell RNA-seq Data. Tagore, S.; Wang, Y.; Biermann, J.; Rabadan, R.; Azizi, E.; Izar, B. BioRxiv 2022.

Molecular Characterization of the Tumor Microenvironment in Renal Medullary Carcinoma. Tourigny, D. S.; Zucker, M.; Kim, M.; Russo, P.; Coleman, J.; Lee, C-H.; Carlo, M. I.; Chen, Y-B.; Hakimi, A.; Kotesha, R.; Reznik, E. BioRxiv 2022.
Tumor Associated Antigen PRAME Exhibits Dualistic Functions that are Targetable in Diffuse Large B-cell Lymphoma. Takata, K.; Chong, L. C.; Ennishi, D.; Aoki, T.; Li, M. Y.; Thakur, A.; Healy, S.; Vigano, E.; Dao, T.; Kwon, D.; Duns, G.; Nielsen, J. S.; Ben-Neriah, S.; Tse, E.; Hung, S. S.; Boyle, M.; Mun, S. S.; Bourne, C. M.; Woolcock, B.; Telenius, A. H.; Kishida, M.; Rai, S.; Zhang, A. W.; Bashashati, A.; Saberi, S.; D'Antonio, G.; Nelson, B. H.; Shah, S. P.; Hoodless, P. A.; Melnick, A. M.; Gascoyne, R. D.; Connors, J. M.; Scheinberg, D. A.; Beguelin, W.; Scott, D. W.; Steidl, C. J Clin Invest 2022, in press.
Copyright © *|CURRENT_YEAR|* *|LIST:COMPANY|*, All rights reserved.
*|IFNOT:ARCHIVE_PAGE|* *|LIST:DESCRIPTION|*

Our mailing address is:
*|HTML:LIST_ADDRESS_HTML|* *|END:IF|*

Want to change how you receive these emails?
You can update your preferences or unsubscribe from this list.

*|IF:REWARDS|* *|HTML:REWARDS|* *|END:IF|*