IICD Newsletter October 2021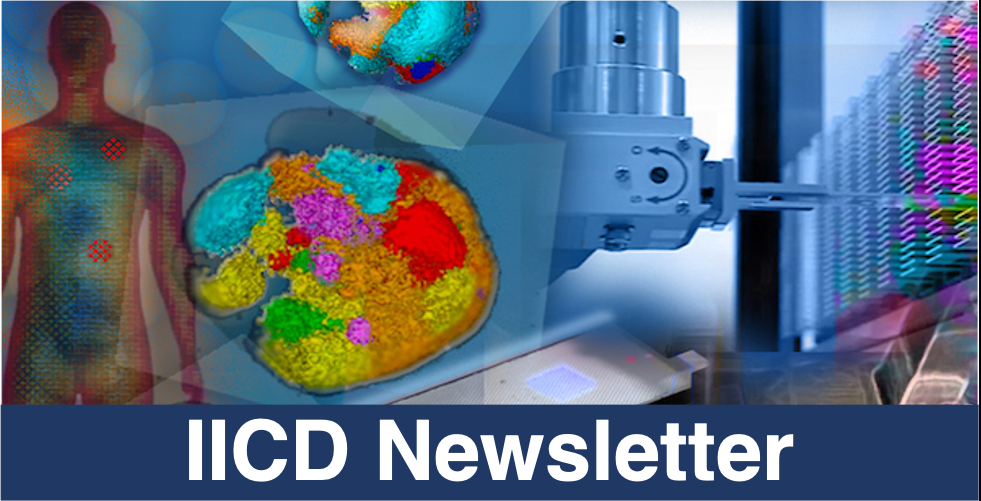 *|MC_PREVIEW_TEXT|*
Predicting Time to Relapse in Acute Myeloid Leukemia through Stochastic Modeling of Minimal Residual Disease Based on Clonality Data
Relationship between minimal residual disease and time to relapse for all patients
(Courtesy of Khanh N. Dinh)
In a new study published in Computational and Systems Oncology by Khanh N. Dinh, current
IICD postdoctoral researcher in the laboratory of Professor Simon Tavaré, the authors developed a stochastic model that can track and predict the evolution of the clonal landscape of AML as it undergoes chemotherapy treatment and eventually relapses.
Congratulations to IICD Associate Member José McFaline-Figueroa, Assistant Professor of Biomedical Engineering, who received a 2021 NHGRI Genomic Innovator Award. The awards support highly innovative work by early career genomics investigators.
Read more about the
2021 NHGRI Genomic Innovator Award.
Development of Novel Strategies for the Early Detection of Pancreatic Cancer
Chin Hur (left), Nicholas Tatonetti (center) and Jiheum Park (right)
Dr. Chin Hur, IICD Associate Member and Irving Professor of Medicine and Epidemiology, and Dr. Nicholas Tatonetti, Associate Professor of Biomedical Informatics, recently received a R21 grant from the NIH for their work developed in collaboration with Dr. Jiheum Park, Associate Research Scientist in the Hur's lab. The goal of this proposal is to develop new protocols for the early detection of pancreatic cancer using a novel strategy for combining human-expert knowledge with deep-neural embeddings.
DSI/IICD Seed Grant Awardee Receives NIH Funding for UNCOVER
Congratulations to Dr. Wan Yang, Assistant Professor in Epidemiology at Columbia University's Mailman School of Public Health, who recently received funding from NIH for UNCOVER (Underlying novel causes of onset of very early cancer research). This was based on the work started with the Data Science Institute/Irving Institute for Cancer Dynamics Seed Funds Program.
"We are so grateful for the support from the DSI-IICD seed fund program, which allowed us to start pilot work for the UNCOVER project. We look forward to continuing this work and hope to share new findings in the near future," says Dr. Yang.
Benjamin Izar and Elham Azizi Receive a NIH R21 Grant
Benjamin Izar (left) and Elham Azizi (right)
Congratulations to Drs. Benjamin Izar (Assistant Professor of Medicine) and Elham Azizi (Herbert & Florence Irving Assistant Professor of Cancer Data Research, Irving Institute for Cancer Dynamics and Assistant Professor, Department of Biomedical Engineering), who were recently awarded a R21 grant for their project "Dissecting drug resistance in serial uveal melanoma biopsies using integrated, multi-modal single-cell profiling and novel machine learning tools".
Andrew Yates Awarded a R01 Grant
Dr. Andrew Yates, IICD Associate Member and Professor of Pathology and Cell Biology, recently received a R01 grant from the NIH (second competitive renewal) titled "Modeling the development, structure and regulation of T cell memory". In this project, they are combining dynamic models, dedicated experimental tools, and novel approaches to inference to study the ecology of CD4 and CD8 T cell memory subsets in mice.

Their aims are to quantify how these populations develop in response to environmental or infectious drivers; how they self-renew, compete, wane, and shift in phenotype over time; to identify the rules of replacement of old memory with new; and to disentangle the effects of host age and cell age on memory T cell dynamics.
Team IICD completed their challenge for

Your Velocity: Columbia's Ride to End Cancer. The team biked/walked around Central Park to
support the life-saving research and comprehensive care for patients and their families at the Herbert Irving Comprehensive Cancer Center.
Testing and Treating Helicobacter Pylori Infection in Individuals with Family History of Gastric Cancer is Cost-Effective
Rustgi,
S. D.; Oh, A.; Hur, C. Gastroenterology 2021, in press. From IICD Associate Member Chin Hur (Columbia University).

Comprehensive Characterization of 536 Patients-Derived Xenograft Models Prioritizes Candidates for Targeted Treatment
Sun, H. et al. Nat. Commun. 2021, 12, 5086. With the participation of IICD Affiliate Member Benjamin J. Raphael (Princeton University).

Cost-Effectiveness Analysis of Genotype-Specific Surveillance and Preventive Strategies for Gynecologic Cancers among Women with Lynch Syndrome
Wright, J. D.; Silver, E.; Tan, S. X.; Hur, C.; Kastrinos, F. JAMA Netw Open. 2021, 4 (9), e2123616. From IICD Associate Member Chin Hur (Columbia University).

DNA Methylation Landscapes of 1538 Breast Cancers Reveal a Replication-Linked Clock, Epigenomic Instability and Cis-Regulation
Batra,
R. N. et al. Nat. Commun. 2021, 12, 5406. With the participation of IICD Affiliate Member Samuel Aparicio (University of British Columbia).
Optimization-Based Causal Estimation from Heterogenous Environments.
Yin, M.; Wang, Y.; Blei, D. M. ArXiv 2021, preprint. From IICD postdoctoral fellow Mingzhang Yin (Tavaré/Blei labs) and
Associate Member David Bl
ei
(Columbia University).
Connect with us on our New LinkedIn Account
Postdoc opening with Professors Mijo Simunovic and Elham Azizi
The

Simunovic and Azizi labs are

jointly seeking a postdoctoral scholar with experimental or computational training in any field of quantitative biosciences, including chemical and biological engineering, computational biology or (bio)physics, to take part in studying the basic biology of signaling, patterning, and morphogenesis in the context of human organ development and disease, including cancer. Learn more here. Please email Elham Azizi (

[email protected]

) and Mijo Simunovic (

[email protected]

) with your CV and contacts for three letters of reference.
Joint postdoc opening in the ZMBBI and IICD
IICD and the Peterka lab at the Mortimer B. Zuckerman Mind Brain Behavior Institute are seeking a highly motivated postdoctoral research scientist to spearhead a collaborative research project focused on the application and development of advanced optical imaging instrumentation and methods for spatially resolved tissue imaging and -omics primarily in tumors. The postdoctoral research scientist will oversee developing new approaches to image and interrogate the tumor microenvironment with single-cell resolution. The ideal candidate has prior experience with advanced microscopy and optomechanical integration, as well as image processing and analysis. Learn more here. Please contact

[email protected]

and

[email protected]

if interested.
Postdoctoral positions available - Modeling Immunological Memory
Immunological memory is a complex system that is highly dynamic in time and space, involving multiple cell populations that compete, self-renew, turn over, and shift in phenotype and repertoire diversity over a person's lifetime. The Yates group has openings for postdoctoral positions, using mathematical and computational methods to characterize the dynamic structure of T and B cell memory in various settings. Expertise in immunology is an advantage but not required. See more about this opportunity
here
, or to make an informal inquiry, email

[email protected]

.
Copyright © *|CURRENT_YEAR|* *|LIST:COMPANY|*, All rights reserved.
*|IFNOT:ARCHIVE_PAGE|* *|LIST:DESCRIPTION|*

Our mailing address is:
*|HTML:LIST_ADDRESS_HTML|* *|END:IF|*

Want to change how you receive these emails?
You can update your preferences or unsubscribe from this list.

*|IF:REWARDS|* *|HTML:REWARDS|* *|END:IF|*