IICD Newsletter September 2023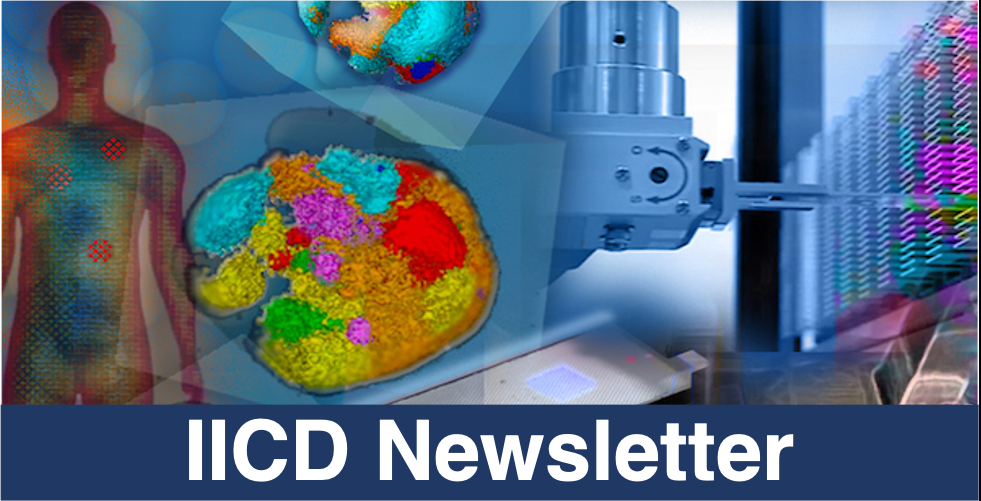 *|MC_PREVIEW_TEXT|*
The Herbert and Florence Irving Institute for Cancer Dynamics Celebrates Five Years
The Herbert and Florence Irving Institute for Cancer Dynamics celebrates five years. The idea of creating an Institute to bridge the gap between mathematical sciences and cancer research started in 2016. In the Spring of 2018, President Lee C. Bollinger appointed Simon Tavaré to establish the Institute and the IICD became a reality.

Next Speaker in the IICD Seminar Series

Mapping the Chromatin Switchboard in Normal and Leukemia Stem Cell Fates
Hosted by Simon Tavaré, FRS
Date: September 13, 2023
at 2 PM (ET)
Location: Fairchild 700 and online
On June 14th, Simon Tavaré, Professor of Statistics and Biological Sciences and Herbert and Florence Irving Director, was awarded the honorary degree of Doctor of Science from the University of St Andrews, "in recognition of his major contribution to computational biology, statistics and the study of cancer." Read more.
Sanja Vicković, Assistant Professor of Biomedical Engineering (in the Herbert and Florence Irving Institute for Cancer Dynamics), was awarded a two-year grant from Target ALS for her project titled "Creating a spatial genomics resource for Amyotrophic Lateral Sclerosis-Frontotemporal Dementia (ALS-FTD) neuropathies." Read more.
The IICD Welcomes Three New Members
Anne van Delft, Assistant Professor of Statistics, joins the Institute as an Associate Member. Her research focuses on stochastic processes that take values in function spaces. Anne is especially interested in development of appropriate statistical theory to further advance methods in cell biology and genomics.
Read more.
Craig Fouts is pursuing a master in applied mathematics
a
nd working as a visiting researcher at the New York Genome Center. Under the joint mentorship of Sanja Vickovic and Bianca Dumitrascu, he is interested in developing statistical machine-learning tools and designing probabilistic models for single-cell genomics. Read more.
Mingxuan Zhang is a new PhD student in the Molecular Therapeutics and Systems Biology Departments co-mentored by Elham Azizi and Andrea Califano. His research focuses on developing novel probabilistic learning models for multiomics data that decode cancer dynamics under molecular therapies with interaction networks and graphs. Read more.
Velocity: Columbia's Ride to End Cancer
For the third year in a row, we are ready to take on the challenge once again to support Your Velocity - with a bigger team! Our team is planning to hike, and some of our members will join the ride on October 8th! Help us support the life-saving research and comprehensive care for patients and their families at the Herbert Irving Comprehensive Cancer Center (HICCC) by joining our team or donating.

Single Cell Mapping in Development & Cancer

An exciting symposium on "Single Cell Mapping in Development & Cancer" will take place at NYU Langone on September 18th, 2023. This symposium will bring together leading experts in the field to discuss the latest advancements and breakthroughs in single cell mapping technologies and their applications in understanding development and cancer.
Recent Publications from IICD Researchers
A Computational Pipeline for Spatial Mechano-Transcriptomics. Hallou, A.; He, R.; Simons, B. D.; Dumitrascu, B. BioRxiv 2023.
Advances and Prospects for the Human BioMolecular Atlas Program (HuBMAP). Jain, S.; Pei, L.; Spraggins, J. M.; Angelo, M.; Carson, J. P.; Gehlenborg, N.; Ginty, F.; Goncalves, J. P.; Hagood, J. S.; Hickey, J. W.; Kelleher, N. L.; Laurent, L. C.; Lin, S.; Lin, Y.; Liu, H.; Naba, A.; Nakayasu, E. S.; Qian, W. J.; Radtke, A.; Robson, P.; Stockwell, B. R.; Van de Plas, R.; Vlachos, I. S.; Zhou, M.; Hu, B. C.; Borner, K.; Snyder, M. P. Nat Cell Biol 2023, in press.

An Intrinsic Approach to Scalar-Curvature Estimation for Point Clouds. Hickok, A.; Blumberg, A. J. ArXiv 2023.

Identification of Transcriptional Programs using Dense Vector Representations Defined by Mutual Information with GeneVector. Ceglia, N.; Sethna, Z.; Freeman, S. S.; Uhlitz, F.; Bojilova, V.; Rusk, N.; Burman, B.; Chow, A.; Salehi, S.; Kabeer, F.; Aparicio, S.; Greenbaum, B. D.; Shah, S. P.; McPherson, A. Nat Commun 2023, 14 (1), 4400.

Modeling and Countering the Effects of Cosmic Radiation using Bioengineered Human Tissues. Tavakol, D. N.; Nash, T. R.; Kim, Y.; He, S.; Fleischer, S.; Graney, P. L.; Brown, J. A.; Liberman, M.; Tamargo, M.; Harken, A.; Ferrando, A. A.; Amundson, S.; Garty, G.; Azizi, E.; Leong, K. W.; Brenner, D. J.; Vunjak-Novakovic, G. Biomaterials 2023, in press.

Obesity-associated Changes in Molecular Biology of Primary Breast Cancer. Nguyen, H. L.; Geukens, T.; Maetens, M.; Aparicio, S.; Bassez, A.; Borg, A.; Brock, J.; Broeks, A.; Caldas, C.; Cardoso, F.; De Schepper, M.; Delorenzi, M.; Drukker, C. A.; Glas, A. M.; Green, A. R.; Isnaldi, E.; Eyfjoreth, J.; Khout, H.; Knappskog, S.; Krishnamurthy, S.; Lakhani, S. R.; Langerod, A.; Martens, J. W. M.; McCart Reed, A. E.; Murphy, L.; Naulaerts, S.; Nik-Zainal, S.; Nevelsteen, I.; Neven, P.; Piccart, M.; Poncet, C.;Punie, K.; Purdie, C.; Rakha, E. A.; Richardson, A.; Rutgers, E.; Vincent-Salomon, A.; Simpson, P. T.; Schmidt, M. K.; Sotiriou, C.; Span, P. N.; Tan, K. T. B.; Thompson, A.; Tommasi, S.; Van Baelen, K.; Van de Vijver, M.; Van Laere, S.; Van't Veer, L.; Viale, G.; Viari, A.; Vos, H.; Witteveen, A. T.; Wildiers, H.; Floris, G.; Garg, A. D.; Smeets, A.;Lambrechts, D.; Biganzoli, E.; Richard, F.; Desmedt, C. Nat Commun 2023, 14 (1), 4418.

Partial Alignment of Multislice Spatially Resolved Transcriptomics Data. Liu, X.; Zeira, R.; Raphael, B. J. Genome Res 2023, in press.

Regulation of VKORC1L1 is Critical for p53-mediated Tumor Suppression through Vitamin K Metabolism. Yang, X.; Wang, Z.; Zandkarimi, F.; Liu, Y.; Duan, S.; Li, Z.; Kon, N.; Zhang, Z.; Jiang, X.; Stockwell, B. R.; Gu, W. Cell Metab 2023, in press.

The Therapeutic Potential of Targeting Regulated Non-Apoptotic Cell Death. Hadian, K.; Stockwell, B. R. Nat. Rev. Drug Discov. 2023, in press.
Copyright © *|CURRENT_YEAR|* *|LIST:COMPANY|*, All rights reserved.
*|IFNOT:ARCHIVE_PAGE|* *|LIST:DESCRIPTION|*

Our mailing address is:
*|HTML:LIST_ADDRESS_HTML|* *|END:IF|*

Want to change how you receive these emails?
You can update your preferences or unsubscribe from this list.

*|IF:REWARDS|* *|HTML:REWARDS|* *|END:IF|*