IICD Newsletter August 2022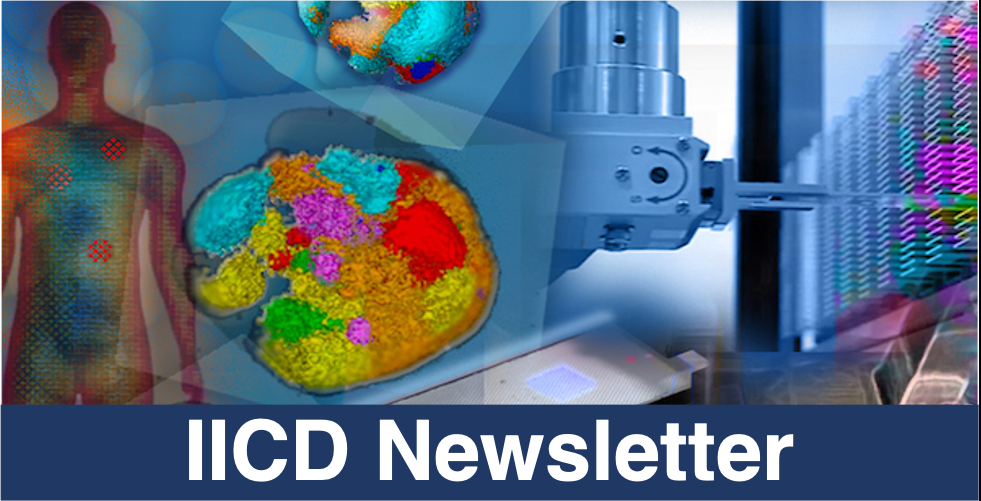 *|MC_PREVIEW_TEXT|*
Sanket Rane is an Associate Research Scientist at the Irving Institute for Cancer Dynamics. Sanket is a theoretical immunologist focusing on quantifying the variability in lymphocyte dynamics upon disrupting immune homeostasis in cancer and chronic infections. In the latest "Faces of IICD" blog series, Sanket shares how
acting and improv classes have considerably influenced his journey in science.
10 Years On, a Cell Death Discovery Shows Promise
for Treating Disease
A new journal article recently published in Cell by IICD Associate Member Brent Stockwell marks the ten-year anniversary of the discovery of ferroptosis, a form of cell death that could help treat life-threatening illnesses like cancer.

An entirely New Way to Visualize Tumors
Cancer Grand Challenge launches Discover, its annual progress magazine, celebrating the power of global team science. Learn about the IMAXT team helping to build an entirely new way to map cancer.

Q&A with 2022 IICD Summer Research Interns
Get to know the amazing interns participating in our first summer research internship program as they share more about themselves inside and outside the lab.

IICD Team at Velocity: Columbia's Ride to End Cancer
For the second year in a row, we are ready to take on the challenge once again to support Your Velocity - with a bigger team! Our team is planning to hike, and some of our members will join the ride on October 2nd! Help us support the life-saving research and comprehensive care for patients and their families at the Herbert Irving Comprehensive Cancer Center (HICCC) by joining our team or donating.

IICD Says Farewell to Four of its Members
Elisa Bergomi (Intern, Simon Tavaré's lab) will start an MSc in Biomedical Engineering at Columbia University in the Fall of 2022. Sophie Thuault-Restituito (IICD Chief of Staff) will become the Chief of Staff and Executive Director for Special Projects for the Executive Vice President for Research, Jeannette Wing, at Columbia University. David Tourigny (Associate Research Scientist) joins the School of Mathematics at the University of Birmingham (UK) as a Birmingham Fellow (equivalent to Assistant Professor rank). Mingzhang Yin (Postdoctoral Research Scientist, Simon Tavaré/David Blei labs) joins the University of Florida, Warrington College of Business, as a tenure track Assistant Professor. Congratulations to all on your new positions.
Brent Stockwell Receives a Pilot Grant from the Columbia Precision Medicine Initiative.
Congratulations to IICD Associate Member Brent Stockwell, who received a Roy and Diana Vagelos Precision Medicine Pilot Grant for $100,000 for a project titled "Optimization of Small Molecules that Restore Enzyme Activity to R152H GPX4".
IICD Welcomes a New Member.
Brian Trippe is a postdoctoral research fellow in the Department of Statistics and the Irving Institute for Cancer Dynamics. He is co-mentored by Drs. Simon Tavaré and David Blei. His research interests include Bayesian statistics and probabilistic modeling, as well as their application to protein engineering.
Spotlight Paper at the DFUQ Workshop (ICML 2022).
IICD Postdoctoral Research Scientist Mingzhang Yin gave a talk at the 2022 International Conference on Machine Learning. His submission titled "Probabilistic Conformal Prediction Using Conditional Random Samples" was selected as one of eight spotlight papers at the Distribution-Free Uncertainty Quantification workshop. Read the paper here.
Recent Publications from IICD Researchers
Conformal Sensitivity Analysis for Individual Treatment Effects. Yin, M.; Shi, C.; Wang, Y.; Blei, D. M. JASA 2022, in press.
Dissecting the Treatment-naive Ecosystem of Human Melanoma Brain Metastasis. Biermann, J.; Melms, J. C.; Amin, A. D.; Wang, Y.; Caprio, L. A.; Karz, A.; Tagore, S.; Barrera, I.; Ibarra-Arellano, M. A.; Andreatta, M.; Fullerton, B. T.; Gretarsson, K. H.; Sahu, V.; Mangipudy, V. S.; Nguyen, T. T. T.; Nair, A.; Rogava, M.; Ho, P.; Koch, P. D.; Banu, M.; Humala, N.; Mahajan, A.; Walsh, Z. H.; Shah, S. B.; Vaccaro, D. H.; Caldwell, B.; Mu, M.; Wünnemann, F.; Chazotte, M.; Berhe, S.; Luoma, A. M.; Driver, J.; Ingham, M.; Khan, S. A.; Rapisuwon, S.; Slingluff, C. L., Jr.; Eigentler, T.; Röcken, M.; Carvajal, R.; Atkins, M. B.; Davies, M. A.; Agustinus, A.; Bakhoum, S. F.; Azizi, E.; Siegelin, M.; Lu, C.; Carmona, S. J.; Hibshoosh, H.;Ribas, A.; Canoll, P.; Bruce, J. N.; Bi, W. L.; Agrawal, P.; Schapiro, D.; Hernando, E.; Macosko, E. Z.; Chen, F.; Schwartz, G. K.; Izar, B. Cell 2022, 185(14), 2591-2608, e30.

Ferroptosis Turns 10: Emerging Mechanisms, Physiological Functions, and Therapeutic Applications. Stockwell, B. R. Cell 2022, 185(14), 2401-2421.
Multimodal Data Integration Using Machine Learning Improves Risk Stratification of High-grade Serous Ovarian Cancer. Boehm, K. M.; Aherne, E. A.; Ellenson, L.; Nikolovski, I.; Alghamdi, M.; Vazquez-Garcia, I.; Zamarin, D.; Roche, K. L.; Liu, Y.; Patel, D.; Aukerman, A.; Pasha, A.; Rose, D.; Selenica, P.; Causa Andrieu, P. I.; Fong, C.; Capanu, M.; Reis-Filho, J. S.; Vanguri, R.; Veeraraghavan, H.; Gangai, N.; Sosa, R.; Leung, S.; McPherson, A.; Gao, J.; MSK MIND Consortium; Lakhman, Y.; Shah, S. P. Nat Cancer 2022, 3(6), 723-733.

Notch2 Signaling Guides B Cells Away from Germinal Centers Towards Marginal Zone B Cell and Plasma Cell Differentiation. Babushku, T.; Rane, S.; Lechner, M.; Zimber-Strobl, U.; Strobl, L. J. BioRxiv 2022.
Results of the Phase I CCTG IND.231 Trial of CX-5461 in Patients with Advanced Solid Tumors Enriched for DNA-Repair Deficiencies. Hilton, J.; Gelmon, K.; Bedard, P. L.; Tu, D.; Xu, H.; Tinker, A. V.; Goodwin, R.; Laurie, S. A.; Jonker, D.; Hansen, A. R.; Veitch, Z. W.; Renouf, D. J.; Hagerman, L.; Lui, H.; Chen, B.; Kellar, D.; Li, I.; Lee, S. E.; Kono, T.; Cheng, B. Y. C.; Yap, D.; Lai, D.; Beatty, S.; Soong, J.; Pritchard, K. I.; Soria-Bretones, I.; Chen, E.; Feilotter, H.; Rushton, M.; Seymour, L.; Aparicio, S.; Cescon, D. W. Nat Commun 2022, 13(1), 3607.
Copyright © *|CURRENT_YEAR|* *|LIST:COMPANY|*, All rights reserved.
*|IFNOT:ARCHIVE_PAGE|* *|LIST:DESCRIPTION|*

Our mailing address is:
*|HTML:LIST_ADDRESS_HTML|* *|END:IF|*

Want to change how you receive these emails?
You can update your preferences or unsubscribe from this list.

*|IF:REWARDS|* *|HTML:REWARDS|* *|END:IF|*